"White vinyl double hung windows any size installed at $189"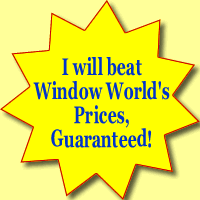 Window World of Tidewater
117 South Witchduck Road
Virginia Beach, VA 23462
(757) 518-2998
"Window World of Tidewater" offers the following windows:
Comfort World 2000

Comfort World 4000

Comfort World 6000


I am Window Man. I am so confident that I will beat Window World's Prices, I encourage you to schedule an appointment with Window World to compare. I offer the same products and sell them for less. And I assure you that my quality of craftsmeship and service is far superior to any company offering Windows in Virginia Beach.
The Window Man offers Windows for Viringia Beach in the following areas: Chesapeake Beach, Great Neck, Kings Grant, Alanton, Green Run, Bayside, Blackwater, Brighton on the Bay, College Park, Croatan Beach, Church Point, Pembroke Shores, Princess Anne, Pungo, Indian River Plantation, Salem, Sandbridge, Seatack, Shadowlawn, Greenwich, the North End, Kempsville, London Bridge, Lynnhaven, Little Neck, Middle Plantation, Munden, Oceana, Ocean Lakes, Ocean Park, Pembroke Manor, Pembroke Meadows, Thalia, Thoroughgood, and the Oceanfront.
The Window Man is in no way shape or form affiliated with or partnered with the company Window World Inc. This website is merely informational. The Window Man is independently owned and operated by Contractor Services, LLC